Casa Geraci
In front of the holiday home
Casa Geraci
Deckchairs in front of the holiday home
Casa Geraci
The dining table in the kitchen
Casa Geraci
Enjoying an excellent Sicilian wine
Casa Geraci
The stairs to the first floor
Casa Geraci
holiday home in Castellammare del Golfo
The characteristic holiday home Casa Geraci, fitted with Wi-Fi internet and air-conditioning, is located in the idyllic coastal town of Castellammare del Golfo, within walking distance of the quaint harbor. During the renovation of this holiday home, all important characteristics of Casa Geraci were maintained, after which the home was tastefully furnished and decorated.
The kitchen of the holiday home contains a dining table, oven, refrigerator and furnace. The most unique feature is the original arch that the owners discovered during the renovation. Under the stairway, which is covered with antique Sicilian tiles, you'll find a washing machine.
On the first floor, the bathroom with shower and a bedroom are located. The tile design in the bathroom was handmade by local craftsmen. From the bedroom with air-conditioning and a double bed, you have access to the balcony, from which you have a view of the harbor. On the second floor you'll find the air-conditioned second bedroom with two single beds. From this room you have access to the terrace which overlooks the harbor of Castellammare del Golfo.
The holiday home is located in a pedestrian area, but there are several parking spaces nearby. Close to Casa Geraci there's a small square with wooden benches from where you can see the quaint harbor.
In the harbor area there are several bars, cafés, and restaurants and there are also lots of shops within walking distance of Casa Geraci.
Check availability and book
Click here to check availability and to directly book this holiday home.
In this tab you can view the availability and rental prices of Casa Geraci and directly book this holiday home. Please visit our search & book page, if you'd like to view the availability and prices of all our apartments, holiday homes and villas.
All rental prices include a free onsicilycard, the use of gas, water, electricity, Wi-Fi internet, towels and bed linens and the final cleaning of the holiday home.
With a minimum 4-day stay, you can choose any amount of days/weeks that you wish to rent. We do not use fixed check-in or check-out days. This allows you to create the perfect holiday to fit your schedule and travel needs!
Holiday home with:
air-conditioning
Wi-Fi internet
radio, CD and MP3 player
oven
toaster
refrigerator and freezer
washing machine
hairdryer
travel cot (on request)
highchair (on request)
Town center:
Sea:
Sandy beach:
within a few minutes' drive
Airport Palermo:
Airport Trapani:
We enjoyed the beautiful house and the street where we "lived"!Famiglia Kosta
We enjoyed the view of the harbor from the balcony and the morning sun in front of the house.Famiglia Visser
In this cozy holiday home we felt right at home. Geert, Emilie & Josephine
It's a LOVELY island!Famiglia Geijselaers
Click here to read Casa Geraci's guestbook.
Guestbook Casa Geraci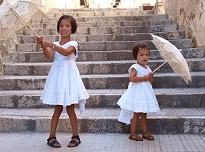 Famiglia Kosta

"Buongiorno Laura e Martijn!It took a while to write something for your guestbook, but we want to you to know that we had a wonderful holiday in Sicily!We enjoyed the beautiful house and the street where we "lived"! The holiday home was cozy and homely furnished and we cooked in the kitchen more than we planned to. With all the delicious fresh vegetables and pasta, you will automatically become a kitchen expert!
The girls have had a great time playing on the stairs, together with our neighbor's granddaughters. Children make friends no matter what language they speak. Thanks to the neighbors, who could speak English and French, we felt at home and that was really special!
The town Castellammare del Golfo was very cozy, especially during the "Madonna" festivities with wonderful fireworks! We were one of the few foreign tourists. The atmosphere in the town was really not made for large amounts of tourists. That gave us the feeling that we were not on vacation but that we were living in another country!
With two small children (1 and 5 years old) we did not do much, but what we did was fun! We spent a day in Erice, where the temperature was very pleasant (about 27 degrees Celsius), then drove to San Vito lo Capo, which had a beautiful beach, but full of Italian tourists. Another day we spent in Parlermo, where we visited fun marketplaces and saw beautiful buildings. We did some shopping in Castellammare and Alcamo and drank delicious ice coffee.
We spent a lot of time on the beach. By recommendation of our neighbors, we found a beautiful quiet beach between Alcamo Marina and Balestrate. Because there was a small lido (Lido Greg) the beach was cleaned every day and it was wonderfully peaceful, with all conveniences, such as food, drinks, showers and toilets.
Overall a great holiday! Choosing a photo for your guest book was a difficult task, since our street was a very photogenic one, not to mention the rest of our trips (we made almost 1000 pictures!).
Thanks for all the tips and information and the real personal touch!
CIAO e GRAZIE
Evert, Mirjam, Sterre en Roos"
---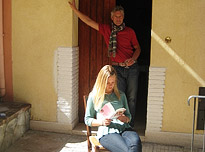 Famiglia Visser
"Hello Laura and Martijn,Despite all the troubles with our outbound flight, we still had a wonderful vacation at Casa Geraci.As other guests have mentioned, a great little town with a very Italian atmosphere and very friendly people. Even though we only speak a few words of Italian, we felt very welcome. Despiteyou're your great tips for nice restaurants in the Western part of Sicily we only dined in Castellammare itself. That wasn't a punishment with so much choice of nice trattorias and restaurants. Even the snack bar had delicious pizza slices.
We haven't read guestbook entries from people who visited Sicily in October and wanted to stress that it's also great in October. We had great weather and there were not a lot of people (except in Palermo ..), so our visit to all the attractions, beautiful beaches and villages were really relaxed. We were often the only ones on the beach and there were no more than 10 other people at the magnificent temples.
The location of the holiday home is beautiful. We enjoyed the view of the harbor from the balcony and the morning sun in front of the house. You couldn't ask for more. Well, to be honest our teenagers wouldn't have minded a nice comfy couch. We thought it was nice that they were more or less "forced" to play a game of cards with us…
In short: a really nice week, …so, thanks!
Arividerci!
Fam. Visser"
---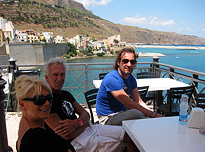 Desiree, Jeroen, Lilian, Hans, Paul & José
"Dear Laura and Martijn,We had a great holiday. The first nine days in Castellammare del Golfo at Casa Geraci in 4 people. We enjoyed the Italian atmosphere in the house and in the surrounding area. Delicious food at La Timpa with fantastic sea views. The food at Al Burgo was also fantastic.The streets, terraces, stairs, the harbor, the cordiality of the people. The town has a romantic Italian atmosphere. A boat trip from the harbor along the coast was amazing. The beach in Castellammare was wonderfully quiet. With rented bicycles we went to Alcamo Beach which is a great bike route. The large beach there is fantastic.
Then we spent 6 days in Balestrate with 6 people in a lovely big house with a beautiful garden. Everything very well taken care of by you. From this location we basically did everything by car. The atmosphere in Balestrate was very different from Castellammare, a little less romantic. But with the car we could go anywhere. A good combination of both.
Then we stayed three days in Baglio Cantello in Paceco. A beautiful hotel among the olive trees in the countryside. The food and service was really great.
You really must visit Erice. Marsala was also worth a visit. Palermo has lots of culture, but it's quite chaotic; We were glad we returned unscathed by car.
The last big compliments are for your wonderful support. Detailed information via email and very accommodating in Sicily. We will certainly come back to this beautiful island.
Kind regards, Desiree, Jeroen, Lilian, Hans, Paul and José"
---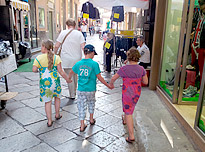 Famiglia Van Loon

"Buongiorno Laura and Martijn,Over a month ago we were in Sicily with the whole family. The reason we were there was the 40-year anniversary of my parents and together we have celebrated this in Sicily. A memory for life, because we had such a great time!The main residence was the luxury villa Veneziano, but we (my friend, our oldest and me) stayed at Casa Geraci. The girls and the rest of the family stayed at the villa.
Casa Geraci was typically Italian and ideal! We didn't fit in the villa with the whole family, hence our stay at Casa Geraci, which we needed for additional beds. We had everything we needed and the welcome was very hospitable. Stefan was really proud of his room on the second floor, which we called his tower room. He felt like a real king!
Wonderful location of the villa and certainly Casa Geraci. Right in the heart of Castellammare del Golfo, with an amazing view of the harbor and the sea!
The area surrounding the residence is magnificent. The most beautiful bays, pretty villages and powerful views.
Especially your care and commitment were extraordinary and greatly appreciated! Thanks for a memorable holiday. I can highly recommend it!
Marie-Thérèse van Loon & Koos de Boer
Stefan, Lianne and Jessica"
---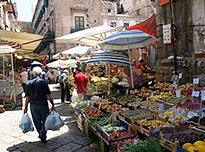 Famiglia Prins
"The stay was perfect. We have enjoyed our Italian neighbors. Nice way to experience living among the Italians. We strolled through the streets and drank cappuccino in the harbor and had delicious meals.Highly recommended!"
---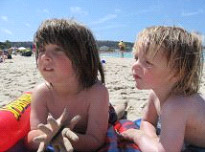 Ed, Mees, Faas & Claudia
"Bongiorno Laura and Martijn!We returned safely to Holland, had a lovely holiday and also the boys really enjoyed themselves. At first it seemed the weather gods were not in a great mood, but in the end we were almost every day on the beach, we saw a lot of the area, visited nice little towns and really loved taking a stroll through the streets of "our own town".The holiday home was perfect, unfortunately we didn't meet the neighbors, but well… there's always next time.
Now we're enjoying a cooling Dutch shower, not so bad after all the sunshine we've had, we should have some nice weather I Holland too, but well, if not, then we still have our tan!!
Thank you and maybe until next time!
Greetings Ed, Mees, Faas, and Claudia"
---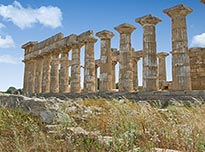 Famiglia Verbeek

"We rented Casa Geraci for two weeks and we enjoyed every minute of it.Laura and Martijn welcomed us and showed us the house. They gave us information about the environment and the Sicilian cuisine. The house is beautifully restored. There is a kitchen and living room and under the stairs you will find a washing machine. On the first floor is the beautiful first bedroom with bathroom and balcony. We slept on the second floor, where we had access to a terrace overlooking the sea and the harbor of Castellammare.In the morning we had breakfast and we had a nice chat with the friendly neighbors. Bars, shops, restaurants and the harbor are all within walking distance. From the town we made several day trips and we've seen many wonderful places, like Erice and Segesta.
The service provided by on-Sicily was also excellent. So we had a fantastic holiday!
---
Bertus & Jolanda"
"Dear Laura and Martijn,You've arranged the start to our holiday in Sicily in an excellent way. At our arrival at the airport in Trapani, a chauffeur was waiting for us and drove us to Balestrate's town center. There you were to accompany us to our first holiday accommodation in Sicily, a beautiful house in Castellammare del Golfo. You informed us elaborately about the places of interest in the area and told us lots of interesting thing s about Sicily and its customs.It is nice to know that there are people available, who you can always call should problems occur or for some advice and who speak your language. At the end of our holiday this came in very handy when we were searching for a location where we could spend the last 2 days on the island. Laura brought us to a beautiful agriturismo in Balestrate. What a great service! Also thanks to the service we got, we can look back on a fantastic holiday in Sicily.
After our start in Castellammare del Golfo we have visited Segesta and Erice, went on to Palermo, Celafu (beautiful!), Taormina, Mount Etna (breathtaking) with small towns in the area, Siracusa, Noto, Agrigento and then back to Balestrate. We enjoyed the nature, the culture, the authentic atmosphere, lovely little towns and the friendly and helpful people of Sicily.
For our next visit (we haven't yet seen all of the island) we will definitively call you to plan another lovely holiday.
Greetings,
Bertus van 't Holt and Jolanda Krabbendam"
---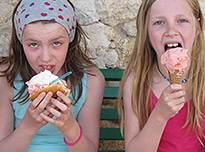 Famiglia Hiensch
"Sicily in May is really beautiful! A green island with lots of flowers and not very crowded. To us the nature reserve lo Zingaro was the highlight of our holiday; it is like walking in a botanic garden with several bays with crystal clear water and quiet beaches where you can have a swim.The places of interest are very beautiful and special. They can be easily reached by car and everywhere the landscape is beautiful. Castellammare del Golfo doesn't seem that special at first, but after a few days we really liked it. It has a nice and lively harbor with good restaurants, all within walking distance. Sandy beach is also nearby.Castellammare is an excellent starting point for daytrips in the area.
The holiday home is tastefully renovated. Great starting point for trips, which we made frequently due to the lack of a garden (there is a balcony though).
We really enjoyed ourselves during this holiday because there is so much to do and to see and because we were able to really relax. The reception and further service from Laura and Martijn was super.
Greetings, Martin, Corine, Hilde and Fien."
---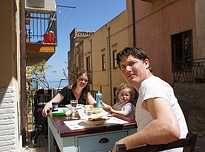 Geert, Emilie & Josephine

"Last May we had a wonderful holiday in Casa Geraci. In this cozy holiday home we felt right at home. It is well equipped, with enough towels, lots of kitchen utensils, a washing machine etc.We have put the table several times outside, so we could seat outside overlooking the harbor. Our daughter had fun playing outside in front of the house.Every morning we had a cappuccino in the village near a playground. The people are so friendly. We immediately found "our" baker, fishmonger and greengrocer. We often prepared dinner at home, for which the kitchen was very suitable for.
The geographic location of Castellammare del Golfo makes it the perfect place to go and visit other nice sites on the island. It is also a very quaint, quiet town with some nice restaurants.
Laura was waiting for us when we arrived. She is personally involved with the guests, which we really appreciated.
We called her when we needed her assistance to organize a visit with a general practitioner. She was there for us. Really great!
We would recommend a vacation in Casa Geraci to everybody!"
---
Famiglia Geijselaers
"Hello Laura and Martijn,First of all we want to tell that we had a really nice week in Castellamare del Golfo. We have also discovered lots of places in the Western part of the island. The next time we go to Sicily we'll go and visit the other side of the island.It's a LOVELY island! The people are really friendly and the food and wine are delicious! A week is just way too short!
Kind regards,
Yvonne and Peter geijselaers."