Appartamento Attinia
apartment on the sea

Appartamento Attinia is an apartment on the sea in the Sicilian coastal town of Balestrate, within walking distance of the town center and the sandy beaches. The apartment is situated on the second floor of a two-apartment building and has a sitting area with TV and views of the Golfo di Castellammare and a kitchen with dining table from which you have a nice view of Balestrate's harbor.
From the kitchen you have access to a balcony with stunning sea views (see photos).
The apartment has two bedrooms. The double bedroom is air-conditioned and has a private balcony. The second bedroom has a bunk bed. The bathroom has a shower, toilet and bidet and a washing machine.
The private roof terrace with amazing sea views is located on the third floor. A perfect spot to enjoy the Sicilian sun or to have dinner while watching spectacular sunsets!
The apartment is located within walking distance of both sandy beach(es) and the town center of Balestrate. The railway line close to the apartment is not used very often (only local trains pass). Balestrate's train station is nearby: 450 meters on foot. If you want to travel by train, we advise you to check the departure times in advance, because the trains pass only once every 1.5 or 2 hours. Click here for the website of Trenitalia. Close to the railway, there's a stairway leading to a pebble beach.
Appartamento Attinia and Appartamento Palinura are located in the same apartment building, the Palinura on the first floor and the Attinia on the second floor. Ideal for families and friends who travel together but still prefer to have their own accommodation! See combinations.
In this tab you can view the availability and rental prices of Appartamento Attinia and directly book this apartment. Please visit our search & book page, if you'd like to view the availability and prices of all our apartments, holiday homes and villas.
All rental prices include a free onsicilycard, the use of gas, water, electricity, Wi-Fi internet, beach towels, towels and bed linens and the final cleaning of the apartment.
With a minimum 4-day stay, you can choose any amount of days/weeks that you wish to rent. We do not use fixed check-in or check-out days. This allows you to create the perfect holiday to fit your schedule and travel needs!
Apartment with:
air-conditioning
Wi-Fi internet
LCD satellite-TV (free-to-air)
microwave
oven
toaster
mixer and blender
refrigerator and freezer
washing machine
coffee maker
hairdryer
beach towels
travel cot (on request)
highchair (on request)
Sea:
Town center:
Sandy beach:
Airport Palermo:
Airport Trapani:
Conclusion: one week was too short, we'll just have to come back soon.Márta & Gábor
..it simply was fantastic, with several balconies and a large roof terrace.Lee-roy, Linda & Roan
Our apartment was spacious and the view was phenomenal!Eric & Diana
We enjoyed walks in the area and we loved the magnificent sea views from the two terracesKlaas & Marianne
Click here to read Appartamento Attinia's guestbook.
Guestbook Appartamento Attinia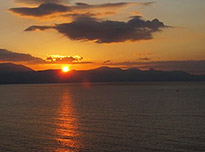 Márta & Gábor

"We recently had a wonderful week's holiday in Sicily – Balestrate in the Attinia apartment. The car rental in combination with transfers from and to the airport was perfectly organized. Laura and Martijn's welcome with Easter bread and a nice bottle of wine was a wonderful beginning of our stay.
Our apartment was comfortable with a beautiful sea view with an almost kitsch evening image: the sunset. (See photo) We benefited a lot from the tourist and practical information we received on arrival.
Conclusion: one week was too short, we'll just have to come back soon.
We have been to: Marsala, Trapani, Agrigento, Castellammare del Golfo, Palermo, Segesta, Favignana. All worth a visit! And do not forget the Nature Reserve Lo Zingaro!
Márta and Gábor from Maastricht"
---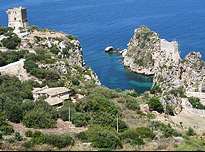 John & Laura
"Ciao Laura e Martijn,
What a wonderful holiday we enjoyed on Sicily! The island has a nice atmosphere with a good mixture of culture, nature, excellent food and warm people.
Although we were there only for one week, we completely enjoyed all of it. Apartmento Attinia in Balestrate forms a good base as it's situated in the centre of a small village at a quiet spot with a beautiful view over the bay (enjoy the sunsets 🙂 !
Thanks to your support and the information available in the apartment it was easy to find our way and brought the possibility to explore nice local shops and specialities.
We would especially recommend ristorante Oltremare. Beautiful pure food, served at a small setting in such a happy way that you can only feel welcome! The young owners Calogero and Christian do understand their profession and make your lunch or dinner an intense and happy experience.
We hope to come back one day to explore more of this beautiful island!
Arrivederci John e Laura"
---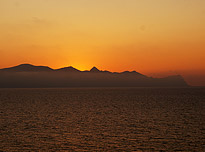 Lee-roy, Linda & Roan

"It was amazing! Communication beforehand went very well and upon arrival everything was well organized. We were picked up at the airport and driven straight to the apartment. Ideal, it just couldn't be better.
When we arrived at the apartment, it simply was fantastic, with several balconies and a large roof terrace. A great place for having breakfast or sunbathing. And the balconies were also lovely and had stunning sea views!
And also everything we needed within walking distance. In short, highly recommended if you'd like to stay in the area of Balestrate.
Laura and Martin, thanks again for a great stay
Greetings Lee-roy, Linda and Roan"
---
Brendan & Gill

"Dear Laura and Martijn,
Thank you for organising such a relaxing and enjoyable holiday for us.
The Attinia apartment was perfect for our needs, great to cook and eat overlooking the gulf, mountains and sea, enjoying the sunset from the balconies and roof terrace. The kitchen had everything we needed.
Balestrate was full of wonderful surprises from unique little shops to great restaurants, and a great place to people-watch, particularly in the early evening.
B&G
Essex"
---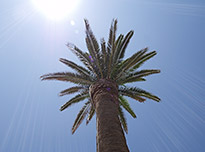 Albert & Frea
"Our holiday in Sicily was great, partly due to the information and service we've got from Laura and Martijn. Upon arrival at the airport of Trapani a driver was waiting for us and we were brought to the car rental agency in Balestrate. While having breakfast with some coffee and a local delicacy, Laura told us all about the things to see and do in West Sicily. Then he drove us to our apartment Attinia, a beautiful apartment with a stunning sea view.
The nice thing was that Martin and Laura had eaten in many restaurants in the area and thaty we got a lot of vouchers to use in the best of them. Via Laura, we booked a table in one of those establishments. Then one night when we could not find a restaurant we called Laura and he explained us how to find the location: the restaurant was perfect and the food and atmosphere were great!
The nature and idyllic places in the area also make it worth to fly to Sicily!
We will certainly return to this beautiful area.
Albert and Frea."
---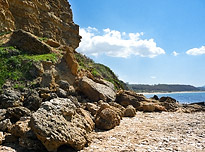 Klaas & Marianne"
"A fantastic stay in Attinia
For us (seniors without a car) Attinia was a perfect location: only 5 minutes to the town center for doing the groceries and to find nice little shops. The Palm trees give shopping area a Mediterranean ambience.
We found the onsicilycard a great initiative. We used it at the greengrocer and at several good restaurants, which we found thanks to the good tips on Laura and Martijn's website.
We enjoyed walks in the area and we loved the magnificent sea views from the two terraces, where we frequently relaxed in the sun. Not bad for the third week of April! In short, we'll be back again.
Klaas and Marianne"
---
Eric & Diana

"Dear Laura and Martijn,
We have had a wonderful holiday in Sicily! Our apartment was spacious and the view was phenomenal! After one week of traveling on the island it was great to enjoy a bit of Balestrate and its surroundings!
What we really loved (and I think most tourists do) was Erice! As if time stood still there!
Balestrate is a really quiet village. People are friendly and they have the best "caffe Americano"! The beach is very large and certainly not crowded. Last but not least we have to mention our wonderful accommodation!
An experience to be repeated!
Best wishes and greetings,
Eric and Diana"