Villa Ponzini
The sandy beach of Trappeto
Villa Ponzini
The sofa in the living room
Villa Ponzini
holiday home near the beach

Villa Ponzini is a large holiday home near the beach in Trappeto. It's only a 170-meter walk to the azure blue sea and the sandy beach of this Sicilian coastal town.
The villa has a spacious garden with an outdoor shower and a large terrace where you can sit in the shade during warm Sicilian days. The holiday home and its garden are surrounded by a privacy wall with a secure (electronic) entrance gate, making it a safe environment for children to play. The private parking area can accommodate up to three cars.
From the terrace you can enter the living room and the open kitchen, which is equipped with a refrigerator, oven and microwave. The hall opens towards the three bedrooms and the bathroom with toilet, bidet and shower.
The first two bedrooms have a double bed and the third has a single bed. The holiday home has central air-conditioning and Wi-Fi internet.
During the summer period, most Sicilians like to cook outside. Villa Ponzini's outdoor kitchen has a gas cooker, a barbecue grill and a table with chairs.
Check availability and book
Click here to check availability and to directly book this holiday home.
In this tab you can view the availability and rental prices of Villa Ponzini and directly book this holiday home. Please visit our search & book page, if you'd like to view the availability and prices of all our apartments, holiday homes and villas.
All rental prices include a free onsicilycard, the use of gas, water, electricity, Wi-Fi internet, beach towels, towels and bed linens and the final cleaning of the holiday home.
With a minimum 4-day stay, you can choose any amount of days/weeks that you wish to rent. We do not use fixed check-in or check-out days. This allows you to create the perfect holiday to fit your schedule and travel needs!
Holiday home with:
Wi-Fi internet
air-conditioning
satellite-TV (free to air)
DVD player
radio, CD and MP3 player
microwave
washing machine.
travel cot (on request)
highchair (on request)
Sea and sandy beach:
Airport Palermo:
Airport Trapani:
4 days at Villa Ponzini was actually much too short…Peter, Inge, Lara, Milou
We had a wonderful holiday.Roland, Paula, Erin en Sem
If someone wants to go to Sicily, I will definitively recommend you!Astrid, Sierd en Senne
Our holiday in Villa Ponzini was one of complete relaxBern, Pjotr & Jano
Click here to read Villa Ponzini's guestbook.
Guestbook Villa Ponzini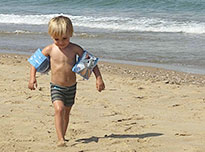 Bern, Pjotr & Jano

"Our holiday in Villa Ponzini was one of complete relax. It is a beautiful spacious house. It has a huge veranda where there is always a cool place to find. Within walking distance we found a quiet beach with a nice warm sea. We have built a lot of sandcastles with our son, Jano.
The small beach restaurant had some delicious pasta and pizza so that was great for lunch. The outdoor shower in our garden was really a blessing after a morning sea bath. The fig tree smelled delicious.
We ate lots of figs, tomatoes and basil from the garden. The area was luckily not full with tourists (but it was already September). And with Martijn's restaurant tips and discounts we always had a delicious dinner. And that's tremendously important to us! Especially eating at the Agriturismo Tarantola was sublime. And the bar near Alcamo had such delicious cakes and ice cream …
Martijn had arranged for us to go and swim in a pool in Balestrate and we also visited a couple of towns when the weather was cooler. Trapani was very nice!
Ciao ! Bern, Peter & Jano (2.5)"
---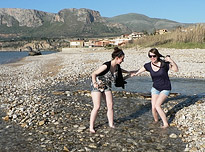 Peter, Inge, Lara & Milou
"April 27 to May 1, 2012: 4 days at Villa Ponzini was actually much too short… the peace and quiet near the house, the village and the lovely beach helped us completely forget the hectic work and school life in the Netherlands.
Delicious sandwiches on arrival, good beds, a nice sofa; Wi-Fi (which made our daughters happpy), a large kitchen; the rocking bench where we could enjoy the last rays of sunshine at the end of the day … we had a great time.
We were amazed that we could see or hear hardly anyone in the village. The beach all to ourselves, sometimes a few locals. For shopping we needed to take the car. No problem for us, we loved the peace and quiet in the area.
When there were problems with our second holiday address (booked through a different organization) near the Etna, we immediately picked up the phone to see whether we could return to the Ponzini. Unfortunately the holiday home was already booked, but Laura found us another location in no time.
For the last 3 days of our holiday we stayed at the honeymoon suite of the Borgo delle Olive; We were amazed at the luxurious purple styled bathroom (double Jacuzzi) and the loft bedroom (candles everywhere). The kitchen was fully equipped and brand spanking-new (probably we were the first ones using it). The area behind the borgo as great for walks among the vineyards and fields with orange and lemon trees. You walk passed dilapidated farmhouses where loud talking and gesticulating people sit together under tarpaulin or reed, with all kinds of livestock surrounding them. A flock of sheep flustered by the "oncoming traffic". Life seems very easy here; at least, people give us the impression they don't worry about a thing. No rush to check out (night flight), so still time for some sunbathing at the pool and to use up our sunscreen.
Very nice to have been in various places in Sicily; and ideal to determine the number of days you stay at a property without having to stay in a hotel.
Laura and Martijn, thanks again!
Peter, Inge, Lara, Milou"
---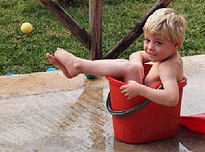 Roland, Paula, Erin en Sem

"Hi Laura and Martijn,
We had a wonderful holiday. The house was situated in a very quiet area and in 5 minutes we walked to the beach. The outdoor shower returning from the beach was great! Every day we had breakfast and lunch with a view of the olive trees. Really nice that everything was so well organized!
Greetings Roland, Paula, Erin and Sem"
---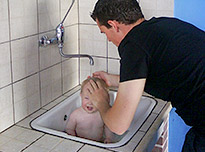 Astrid, Sierd & Senne
"The holiday in Sicily was great. Thanks again for your help when our rental car broke down! By the way, a week after we got back to Holland the car rental Agency Maggiore sent us a bill for some dame we would have caused. We don't know anything about this damage, but we were lucky that it was covered by our insurance policy. It does give me the idea though that the rental car agency is trying to rip people off, because when you bring the car back, nobody is checking the state of the car with you. This way you can't proof anything.
Sicily is a lovely island, beautiful nature. And the cooperation with you was excellent! If someone wants to go to Sicily, I will definitively recommend you!
Good luck!
By the way I've only attached one photo. It was taken when Senne took a bath in the sink of the outdoor kitchen.
Greetings,
Astrid, Sierd and Senne"