Villa Veneziano
The dining table in the living room
Villa Veneziano
The sliding doors in the living room
Villa Veneziano
The outdoor table in the garden
Villa Veneziano
Access to the garden from every bedroom
Villa Veneziano
Villa with swimming pool

Villa Veneziano is a villa with swimming pool close to the Sicilian villages of Scopello and Castellammare del Golfo, within a 900 m walking distance of the Guidaloca bay and pebble beach.
The villa has a spacious living area with air-conditioning, two sofas, a TV, a fireplace, a dining table and a kitchen. The kitchen is fitted with a microwave, a coffee machine, a fridge and a dishwasher. From the living area you have direct access to two of the four bedrooms, the garden with swimming pool and a room with a toilet and a washing machine.
In every bedroom there's a double bed and in two of the bedrooms there's also an extra single bed. Therefore the villa offers enough space for 10 people.
Every bedroom has its own bathroom with shower, toilet and bidet and is fitted with air-conditioning. In two of the bedrooms there is also a TV. From every bedroom, you'll have direct access to the garden.
In Villa Veneziano's garden there's a large table and a covered outdoor kitchen with barbecue. In the swimming pool area you'll find several sun loungers and an outdoor shower. From the garden you can see the rocky mountains of Scopello and the nature reserve Lo Zingaro.
The villa and its garden are surrounded by a fence and a privacy wall with an entrance gate, making it a safe environment for children to play.
On Villa Veneziano's terrain you can park several cars. Please fill in this form if you'd like to receive a quote for car rental and a transfer service from and to the airport of Palermo or Trapani.
In this tab you can view the availability and rental prices of Villa Veneziano and directly book this villa. Please visit our search & book page, if you'd like to view the availability and prices of all our apartments, holiday homes and villas.
All rental prices include a free onsicilycard, the use of gas, water, electricity, Wi-Fi internet, beach towels, swimming pool, towels and bed linens and the final cleaning of the villa.
With a minimum 4-day stay, you can choose any amount of days/weeks that you wish to rent. We do not use fixed check-in or check-out days. This allows you to create the perfect holiday to fit your schedule and travel needs!
Villa with:
private swimming pool
air-conditioning
Wi-Fi internet
TV
outdoor kitchen and barbecue
dishwasher
washing machine
sun loungers
travel cot (on request)
highchair (on request)
Sea and beach:
Airport Palermo:
Airport Trapani:
We had a relaxing 9-day stay and made frequent use of the swimming pool. Mike, Sylvia, Sandra & Marco
The villa was as beautiful as the photos displayed on your website.Famiglia Van Thoor
We had an unforgettable wedding, also thanks to your contribution.Gerard & Marie Louise van Loon
We had a wonderful holiday in villa veneziano.Famiglia Pluimers

Click here to read Villa Veneziano's guestbook.
Guestbook Villa Veneziano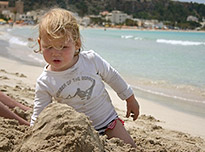 Famiglia Van Thoor
"Buongiorno Laura and Martijn,
On the day of our arrival we were enthusiastically greeted by you and the whole organization ran smoothly and professionally. We found that in reality this lovely villa really looks exactly like the images on your website.
Although we didn't always have sunny days we intensely enjoyed our stay in the beautiful villa with a great outdoor kitchen, a pool, the nicely decorated living room and the 4 comfortable bedrooms which all had their own bathroom with shower.
It is only a short walk to the nice pebble beach and it is only 5 minutes by car to the beautiful Scopello or Castellammare del Golfo.
Your recommended restaurants, the swift service when we needed extra blankets and your help translating when we had to bring our daughter to the hospital were excellent. We are convinced that in the years to come Sicily will be discovered by many other Dutch families and that you are the ideal couple to go to when looking for a good holiday home.
Thank you for everything and good luck with everything you're doing.
Warm greetings Nicole, Dirk, Daan and Tirz"
---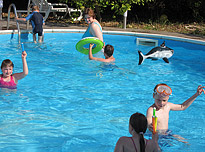 Famiglia Van Loon
"It was already a month ago, but we still think back to that wonderful holiday at Villa Veneziano, where we celebrated our 40th wedding anniversary with our children and grandchildren. The preparations began a year ago. You always responded swiftly to the many questions we had.
The rental car pick-up in Balestrate went very quickly, and then you accompanied us to the supermarket because we were in 13 people (10 in Villa Veneziano and 3 in Casa Geraci) and we needed some groceries. We made trips to Scopello, Palermo, Erice and the nature reserve. Sicily is beautiful! Every day we dined outside and enjoyed the pool. It was great fun. It was ideal that every room had its own private bathroom.
The last night we went to eat in a restaurant that you had booked for us. After the main course came the surprise: a delicious cake for was served (with a "40" on it) on behalf of Laura and Martijn. We had an unforgettable wedding, also thanks to your contribution.
Thank you for your hospitality.
Gerard and Marie Louise van Loon
"
---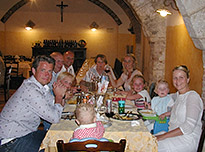 Famiglia Pluimers
"Hi Laura and Martijn,
We've had a lovely holiday in villa veneziano. There was enough room for the 10 of us. It has a great garden with swimming pool which was frequently used by the children. The temperature was good. Thanks to you we had a lovely dinner in a pizzeria in Alcamo. Highly recommended! Scopello is a really cozy and beautiful little town. A couple of times we went to the beach in San Vito Lo Capo. A beautiful area. We also made trips to Trapani and Erice. The days went by very fast. It was definitively an experience to repeat some other time. You were very hospitable and were always there when we needed you. Great!
Greetings Family Pluimers, family Kamp and family Van den Hengel"
---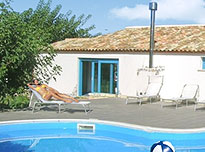 Mike, Sylvia, Sandra & Marco
"Ciao Laura and Martijn,
We are back again in the cold Netherlands and look back with pleasure at our holiday on your beautiful island. A few months ago while surfing on your site we were looking for a spacious house with a private pool.
We are pleased that we had contacted you, although at that time we weren't able to find the kind of house with a pool we were looking for on your website. When we received your mail with pictures of Villa Veneziano we knew it was exactly what we were looking for!
We had nine days to relax and made frequent use of the pool. We made some trips and enjoyed dining in restaurants, all great!
Good luck and have fun in Sicily!
Mike, Sylvia, Sandra and Marco"