Casa il carretto Siciliano
Casa il carretto Siciliano
Casa il carretto Siciliano
Casa il carretto Siciliano
Casa il carretto Siciliano
Casa il carretto Siciliano
Casa il carretto Siciliano
An original rear panel of a carretto Siciliano
Casa il carretto Siciliano
Casa il carretto Siciliano
Casa il carretto Siciliano
self catering holiday home in Balestrate

Casa Il carretto Siciliano is a recently renovated self catering holiday home with air-conditioning, close to Balestrate's center.
Via the stairs you'll reach the first floor where you'll find two bedrooms and the first bathroom with shower, toilet and bidet.
From the first bedroom with double bed you have access to the balcony. In the second bedroom there are two single beds. Both bedrooms are fitted with air-conditioning.
Following the stairs you'll reach the living area with air-conditioning, kitchen, a dining table and a sofa. From here you have direct access to the terrace. Via the small hallway you can reach the second bathroom with toilet and shower.
The holiday home is located within a two-minute walk of Balestrate's town center and a 10- to 15-minute walk of the large sandy beach.
A "carretto siciliano" is a typical Sicilian chariot. Back in the day it was decorated with wood carvings and painted images. The painted scenes were based on important facts from the Sicilian history. The horse was also decorated. In this holiday home you'll find some original parts of an old carretto siciliano.
Check availability and book
Click here to check availability and to directly book this holiday home.
In this tab you can view the availability and rental prices of Casa il carretto Siciliano and directly book this holiday home. Please visit our search & book page, if you'd like to view the availability and prices of all our apartments, holiday homes and villas.
All rental prices include a free onsicilycard, the use of gas, water, electricity, Wi-Fi internet, towels and bed linens and the final cleaning of the holiday home.
With a minimum 4-day stay, you can choose any amount of days/weeks that you wish to rent. We do not use fixed check-in or check-out days. This allows you to create the perfect holiday to fit your schedule and travel needs!
Holiday home with
air-conditioning
Wi-Fi internet
LCD TV
radio, CD and MP3 player
microwave
refrigerator and freezer
washing machine
hairdryer
barbecue
travel cot (on request)
highchair (on request)
Town center:
Sandy beach:
Airport Palermo:
Airport Trapani:
We've had a lovely holiday! Casa il carreto Siciliano is as beautiful as shown on the photosLinda, Mark, Jasper & Lotte
The lovely beaches are a stone's throw away.Max & Heidi
A little late, but we wanted to let you know that we had a great holiday in Sicily.Herman & Monja
We will definitely recommend on-sicily.com and we'd love to come back again.Pieter & Eva
Click here to read Casa il carretto Siciliano's guestbook.
Guestbook Casa il carretto Siciliano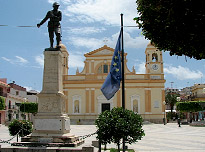 Famiglia Bakker

"Dear Laura and Martijn,
We've had a lovely holiday! Casa il carreto Siciliano is as beautiful as shown on the photos: the holiday home is nicely renovated, it was clean and cozy and it was big enough for the four of us (great having two showers!) On the terrace we've enjoyed the Sicilian sun.
The town center is really nearby. We bought fresh fruit and vegetable at Frutta en Vini and at a bar we ate our first bun with ice-cream (delicious!).
Jasper and Lotte really liked the ceramics workshop and are proud of the plates they painted themselves (luckily the plates arrived in one piece in Holland).
Thank you for everything and who knows, until next time!
Greetings from Amsterdam,
Linda, Mark, Jasper and Lotte"
---
Max & Heidi
"The stay in this house was lovely. The house is located in the middle of the quiet town of Balestrate. So you're amidst the Italians, who are incredibly friendly and helpful. The lovely beaches are a stone's throw away. In addition, there are many place in this friendly village where you can eat good food. The house itself is clean and has air-conditioning. Overall we had a very nice holiday and soon we will be trying a holiday home in Castellammare del Golfo through the same organization. That's how much we enjoyed our stay!
Max and Heidi"
---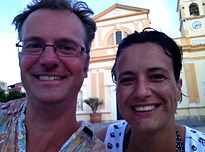 Herman & Monja
"A little late, but we wanted to let you know that we had a great holiday in Sicily. The house was nice and centrally located. The beach was also very nice. The bus and train connections to Palermo and other places, such as Trapani, were good. We made a nice trip by train and we had the train compartment for ourselves ….. hahahaha.
We also went to Rome for a week, which was also great. A bit of culture after our relaxing weeks in Sicily.
All in all a fun time and we have already mentioned your website to our friends and acquaintances.
We miss the coffee places already …
Greetings,
Herman andMonja
Delft"
---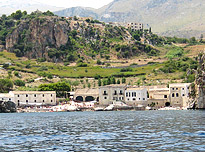 Pieter & Eva

"Dear Laura and Martijn,
Thank you very much for the nice holiday. We very much enjoyed our stay in Balestrate. Thanks to the location of the house, we have experienced the real Sicily. Despite our lack of Italian, the neighbors down the street and the other residents on the island were very friendly, patient and helpful.
Every morning we had breakfast at del Golfo with delicious pastries and coffee.
We think your service is really unique and very nice. From the booking (nice last-minute offer) until our departure we experienced your help as very valuable and friendly.
We will definitely recommend on-sicily.com and we'd love to come back again.
Kind regards,
Pieter & Eva."
---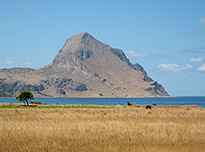 Mariette & Vincent
"Our stay in casa Il carretto Siciliano this summer was very memorable. What a cozy house, decorated in Sicilian style and with a lovely terrace. Immediately we felt at home. It was great being in the heart of Balestrate, in a small street where the old folks were sitting in front of their house chatting with each other. So we could really enjoy the Sicilian way of life: every morning we heard the greengrocer singing, we had breakfast at the bakery around the corner and in the evening we too were making a passeggiata and of course we ate very good pesce spada, spaghetti alle vongole and zuppa di cozze in our favorite restaurant. And all that within 100 meters from the sea – which we could see from our terrace – and with the beautiful and large sandy beach (just outside of Balestrate).
Balestrate is a not overly touristic coastal town. Only in the weekends and with the holidays it can be a little bit more crowded in the summer when lots of people from Palermo come to enjoy the sandy beaches. We like the fact that Palermo is nearby, about half an hour by car. Thanks to the excellent information from Laura and Martijn, both on their website as given to us on arrival, it is easy to find your way in the big city and you won't have to search long for a parking space, a place of interest or a good restaurant.
Besides Palermo, Monreale, Erice, Trapani, Segesta, Scopello and the nature reserve Zingaro are also easily reachable, just like the beautiful beaches in Castellammare del Golfo and San Vito lo Capo. We also loved the landscape, the beautiful coastline and the mountains and hills.
Last but not least our compliments for Laura en Martijn, who make sure everything runs smoothly and who organize fun things like the pizza workshop in the countryside. A really nice, fun (and educational) evening for children and parents, with delicious starters and Sicilian dolci, a local Nero d'Avola wine and of course the pizza we made ourselves. Laura also helped us on a more personal mission: a genealogic search for our Siciliaanse ancestors, who lived here in the area.
In short, we had a perfect holiday in la bella Sicilia!!!!
We advise everybody who wants to see more from Sicily than the standard things and who'd like to optimally enjoy the good life on this island, to choose on-Sicily. We already miss Sicily a lot…
Laura e Martijn, mille grazie e arriverderci!"
---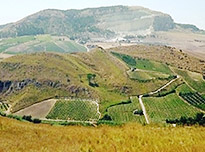 Famiglia Schuil
"We really enjoyed our stay and we thank you for everything. The holiday home was nice and located in the middle of the town. You could find us every morning drinkning coffee in the town square, we visited the beaches of Castellammare and Balestrate, the Tonnara in Scopello, we rented a boat, we made a trip to the elegant Marsala (what a great area!) and we were in Palermo during the Santa Rosalia festivities – what an experience!
We frequently used the restaurant vouchers and enjoyed the food and the Sicilian hospitality.
Thanks again and we will definitively save your website in our 'favorites'!
Greetings,
Beverly and the family Schuil"
---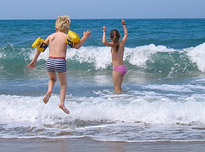 Martin en Mariette

"Dear Laura and Martijn,
We are back home! We had a wonderful holiday! seen a lot, done a lot and ate great food!
Thank you for your nice 'guidance' (we will 'promote' you in our area! 😉 )
Greetings,
Martin and Mariette"